Megumi Amatsuka
Statistics
Age
16-18
Gender
Female
Debut
Voice Actor/Actress
About Megumi
Edit
Megumi Amatsuka, nicknamed Megu, is the middle child of the Amatsuka family. She is taller than her older sister, Mao Amatsuka, and has pink hair and eyes. She is a nice girl, and is always seen making tea inside the club room. She always seems to have a calm demeanor even when everyone else in the club is scared.
Appearance
Edit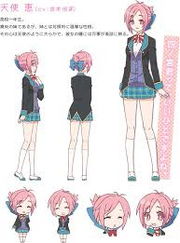 Megumi has pink hair tied in a bun with a blue ribbon and pink eyes. Like all of the GJ-bu characters she is seen mainly in her school uniform.
Personality
Edit
She tends to be quiet, peaceful and composed (even in presence of spiders) most of the time. She, however, takes games very seriously and when someone talks about anything having to do with her weight, she gets upset. She loves both of her sisters a lot, and she sometimes worries about the shyness of Mao, her "onee-chan" (meaning "big sister"). She is basically a heavenly creature, as Mao said.
Background
Edit
Relationships
Edit
Main article: Megumi Amatsuka/Relationships.
"I am so glad you're (Kyoro) here. I have someone to serve tea to."
""Onee-chan, your hair gets tangled really easily.""
""Don't brush too hard. Otherwise, you might pull her hair or make split ends.""
Her weight is 50 kg and she's very sensitive about it.
She prefers avoiding sleep than not having baked the cakes for the next day in the club.
She apparently can't hear Seira's mask voice
Main article: Megumi Amatsuka/Image gallery.