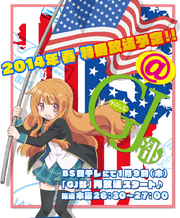 GJ-bu (GJ部, Gujjobu?, lit. GJ Club) is a Japanese light novel series written by Shin Araki and illustrated by Aruya, serialized on Shogakukan's Gagaga Bunko by March 18, 2010 – March 16, 2012. It was adapted into an anime television series by Dogakobo, started airing by January 10 until March 28, 2013. A spin-off GJ-Bu Chūtō-bu began publication by April 18, 2012 and currently on-going.
Main article: List of GJ-bu Anime Episodes.
Kyōya Shinomiya is forced to become a new member of the GJ, an unidentified club that duels in a room of the former building of a certain school. Here he meets the club leader, Mao Amatsuka, a short girl with a big attitude; Mao's younger sister, Megumi, who has the heart of a bipolar angel; the recognized genius with a lack of common sense, Shion Sumeragi; and the always-hungry and mysterious Kirara Bernstein. Time flies with these unique girls around!
GJ Club: Middle School Division
Edit
Theme Songs
Edit
Ad blocker interference detected!
Wikia is a free-to-use site that makes money from advertising. We have a modified experience for viewers using ad blockers

Wikia is not accessible if you've made further modifications. Remove the custom ad blocker rule(s) and the page will load as expected.